420 kNm knuckle boom crane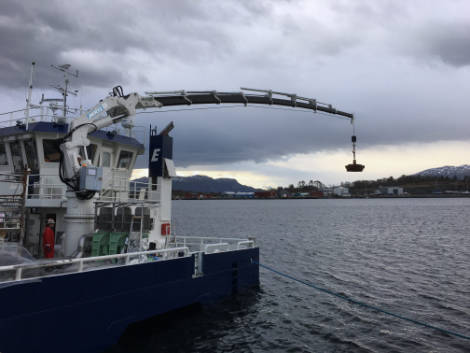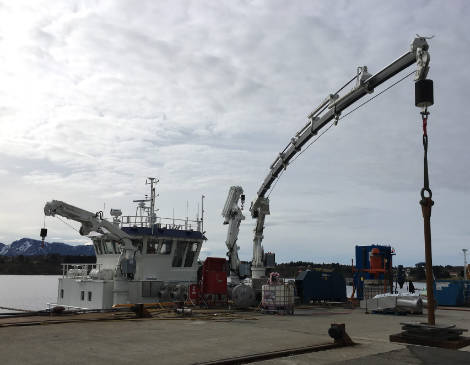 MKG hydraulic marine crane, model HMC441, knuckle boom type with special crane base for stationary mounting, cranked column in all-steel design, slewing ring gear with two slewing motors and hydraulic slewing connections for 360° continuous slewing (slewing torque 56kNm), jib up to 8-times hydraulically extendable under load to max. reach of 20,90m. All rams are double acting and the piston rods are hard chromium plated, complete hydraulic system consisting of:
One lifting ram, one jib ram, extension rams, slewing gear, Danfoss control valve block with individual control valves (high precision) plus load holding valves at all cylinders and overload protection valves. HBC radio remote control consisting of transmitter and linear-or joy-stick controls, receiver, charger with 2 re-chargeable batteries, add. cable control, automatic frequency-search at start-up, emergency-off, multiple-speed choice. Black box with digital display in a stainless steel housing. Load holding valves at lifting-, jib-, and extension rams. Special damping control by pressure reservoir to minimize centrifugal forces acting on the load-bearing components.
Hydraulic winch 3.400kg pull at single line/1st layer resp. 2.880kg/3rd layer, average speed 33m/min at 80l/min., rope dia. 12mm, rope length 55m (spin-resistant), incl. pulley, control valve and safety hook with latch.
KTL-treatment of steel structure, i.e. electrostatic coating process (cataphoretic painting in accordance with corrosion protection class C5, DIN EN ISO 12944-2) against corrosive environment, crane base - St 52-3, column/booms - St e 460, cylinder tube - St 52-3, piston rods – twice chromium plated (option: stainless steel), bushings - seawater proof bronze, (optional: hose-ends/clamps/ piping in stainless steel), sandblasting, 300µ-coat colour system, painting RAL 9005 - black.
This crane is manufactured according to German Standard DIN 15018 resp. EN 12999 to meet marine specifications for provision/service crane type "A". Min. 5° heel and 2° trim under harbour conditions with full load.