478 kNm knuckle boom crane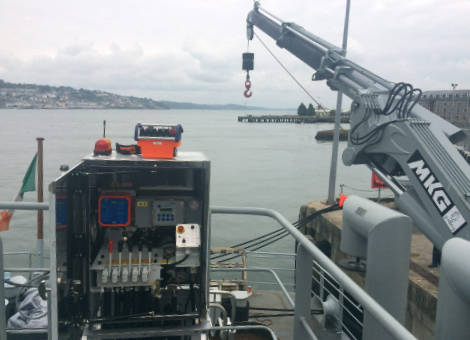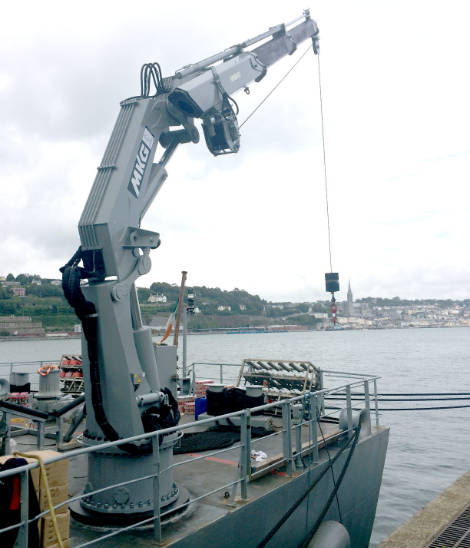 MKG hydraulic marine crane, model HMC541, knuckle boom type with special crane base for stationary mounting, cranked column in all-steel design, slewing ring gear with one slewing motor and hydraulic slewing connections for 360° continuous slewing (slewing torque 75kNm), jib up to 8-times hydraulically extendable under load to max. reach of 20,26m. All rams are double acting and the piston rods are hard chromium plated (option: stainless steel), complete hydraulic system consisting of:
Danfoss control valve bank consisting of individual valve sections for all crane functions, high precision with integrated suction and safety valves. Manual lever controls inside a stainless steel box together with radio receiver, electric board, black box, emergency off device.. Radio remote control (HBC-Spectrum), consisting of transmitter with linear or cross-lever controls (option: waterproof), receiver, charger (12/24V) with two re-chargeable batteries, automatic frequency search, emergency-off, extra cable in case of radio break-down, variable speed choice. Electronic crane control system (black box) incl. overload protection device, actual load info and damping control for lifting cylinder. Load holding valves at lifting-, jib-, and extension rams. Overload protection valves with visual warning device, emergency shut-off buttons at all controls according to CE-standard. Pressure accumulator at lifting cylinder to dampen the centrifugal forces acting at the neck-bearings.
Hydraulic winch 5.000kg capacity at single line/1st layer/4.150kg on 3rd layer, rope length 55m, rope diameter 15mm (spin-resistant). Average speed at 90l/min. - 40m/min. Control valve, pulley and safety hook.
KTL-treatment of steel structure, i.e. electrostatic coating process (cataphoretic painting in accordance with corrosion protection class C5, DIN EN ISO 12944-2) against corrosive environment, crane base - St 52-3, column/booms - St e 460, cylinder tube - St 52-3, piston rods – twice chromium plated (option: stainless steel), bushings - seawater proof bronze, (optional: hose-ends/clamps/ piping in stainless steel), sandblasting, 300µ-coat colour system, painting RAL 9005 - black.
This crane is manufactured according to German Standard DIN 15018 resp. EN 12999 to meet marine specifications for provision/service crane type "A". Min. 5° heel and 2° trim under harbour conditions with full load.